NOW SCREENING
ON OUR VIRTUAL PLATFORM
GIVE IT BACK
- WINNER OF THE -
NOW STREAMING ON BZN'S VIRTUAL PLATFORM
AS SEEN ON THE BZN'S VIRTUAL PLATFORM
NOW STREAMING ON BZN'S VIRTUAL PLATFORM
TRUE
WILD
THE REAL STORY
OF WOLVES ON
TED TURNER'S
MONTANA RANCH
FRESH CONTENT ADDED ALL YEAR!
MEMBERSHIPS AVAILABLE TODAY!
click here to visit our virtual platform
VIEW THIS YEAR'S AWARD WINNERS
CALLING ALL FILMMAKERS
Film submissions
now being accepted
for BZN VIRTUAL PLATFORM
FILM SUBMISSIONS
Become a Sponsor
Sponsors offering financial support to BZN
will receive a variety of discounts and offers
throughout the BZN Film Festival.
BECOME A BZN SPONSOR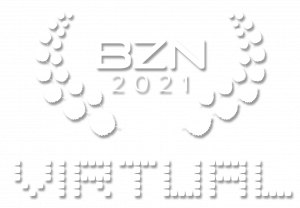 We invite you to the unique virtual experience that is the Fourth Annual BZN International Film Festival.
Join us today on our virtual platform and in-person this September 9 – 12, 2021 for a year long festival experience celebrating independent filmmaking and creative expression from both emerging and established voices.
The BZN international Film Festival is proud to showcase films educating, encouraging and inspiring audiences to get involved and take action to protect our planet, as well as a rich slate of interviews and exclusive BZN created content.
We are proud to continue four years of rich tradition, screening over 120 films on our virtual platform for Bozeman Film Celebration Members to easily enjoy from the safety and comfort of their own homes.
Take advantage of being a BZN Member and visit businesses throughout Bozeman that are offering deals during the festival!
Presenting the lineup of films for the 2020 BZN International Film Festival, August 27-30 in beautiful Bozeman, Montana + virtually from August 27-September 5.
Presenting the lineup of films from the 2019 BZN International Film Festival, last June 6-9 in beautiful Bozeman, Montana.
Explore all 2018 BZN International Film Festival had to offer at our inaugural event on June 7-10, 2018.
Checkout the festival lineup including film screenings, conversations, special events and public events taking place during BZN.
Let the BZN 2019 memories live on! From the parties to the panels, our fabulous photographer Debra-Lynn Hook and intern Alexis Bedell captured the festival beautifully.